Program Background:
The South Coast Shorebird Recovery Program was established in 1999 by the NSW National Parks and Wildlife Service (NPWS), to reduce the rate of decline of threatened shorebirds and recover populations by enhancing breeding success.
Library of Newsletters.
Actions:
To achieve these aims a number of actions form the basis of the program's operations, these include: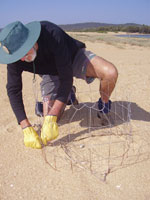 • conducting surveys to establish baseline data on the breeding activities and numbers of each species
• monitoring suitable coastal habitats to determine the location of nesting sites and the level and types of threats posed at each site
• undertaking habitat protection (see image) and management actions to alleviate identified threats, such as physical protection of nest sites, signage, fox control, water inundation management and chick protection.
This program also conducts a broad-scale public awareness campaign annually to raise public awareness of the conservation status, recovery efforts, habitat importance and the biology of threatened shorebirds through publicity, media and active community involvement.
Staff: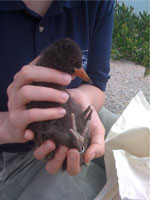 To ensure that this important program is implemented effectively and efficiently two Shorebird Recovery Coordinators are employed by the NPWS on a part-time basis from October to March. Their role is to coordinate the implementation of recovery actions during the breeding season and to report on the results. Communicate with them through the Contacts page.
Expert staff are called in as required to conduct flagging/banding of chicks (see image).
One Coordinator works out of the Nowra NPWS office and covers the South Coast Region from Wollongong to Batemans Bay.  A second coordinator works out of the Narooma NPWS office, covering the Far South Coast Region from Batemans Bay to the NSW/Victorian border.
Partnerships: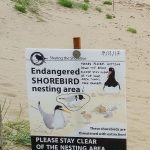 Since its establishment, this program has developed strong partnerships between the NPWS, other state and government agencies (e.g. Department of Lands, Local Land Services (formerly Rural Lands Protection Board "RLPB"), local councils), local environment groups (e.g. Eurobodalla Natural History Society, Far South Coast Birdwatchers, Landcare), Marine Parks and individual members of the community, including over 100 dedicated volunteers.
Some of the biggest threats to Shorebirds are:
• Accidental trampling by humans
• Being squashed by vehicles (more a threat on the NSW north coast)
• Domestic dogs
• Predators such as foxes, crows & cats
• Storms, king tides and storm surges
Newsletters
Downloads: